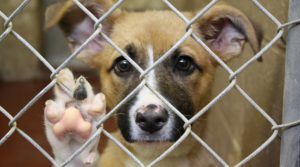 Beverly Hills speaks up for homeless pets
Beverly Hills has passed an ordinance that bans pet stores from selling dogs unless they come from a rescue or a shelter. They have followed approximately 80 other cities in passing this ordinance which will hopefully set an example for more cities to follow. San Diego passed this law in 2013. While not all stores participate in puppy mills, it's important to check where the pet came from before purchasing.
Millions of dogs are in shelters and rescues across the U.S, many of them in kill shelters waiting to be euthanized. For people wanting to find a dog to adopt there are many different options in rescues and shelters that have a variety of pure bred and mixed breed dogs. Many people just don't know the harsh environment that these puppies come from and that by rescuing they are not only saving one life but saving many by not contributing to puppy mills.
There are many benefits to rescuing a dog. When you rescue, often times you have more options of breed and mixed breed dogs. There are many puppies in rescues as well as older dogs. Adopting an older dog is a great option for many people that may not want to spend the time, energy, or training that goes into raising a puppy. A huge benefit in adopting from rescues or shelters is they do temperament tests on all dogs before they are adopted out. They test the dog to see if it has any aggressive behaviors. They test to see if they are compatible with children and other pets. Many rescues also test basic training knowledge such as house training. Pets from shelters and rescues usually come with all of their vaccines, medical checkups, and spayed or neutered which will save time and money. Many pets in rescues and shelters are perfectly healthy, happy pets that were placed there by people's circumstances. The dog sin shelters and rescues are loving, caring pets that deserve to live the rest of their lives outside of bars in the arms and hearts of people who will love them and take care of them. They are just waiting for a loving family to give them a forever home.
To see some heartwarming stories of rescue pets who have made a tremendous difference in people's lives, check out this story from Huffington post!
More Stories Like This One