Creating a healthy life with AMAZING style!
We know the importance of keeping your furry family member happy and healthy… and at Sydnee's, that all starts with grooming! Our company philosophy is to "create a healthy life with amazing style". We're a family-owned company, and we treat our four-legged clients as our own. From pet facials to every day trims, our professionally-trained groomers provide the highest level of comfort while using all-natural products that are safe for our pets and the environment.
The Sydnee's Difference
Sydnee's is more than a grooming company. We are a family with one major quality in common: compassion. That's why at Sydnee's we are passionate about delivering a safe, clean and enjoyable experience to every pet we encounter. What makes our family special?
We love what we do

As animal lovers, we are dedicated to making your pet feel safe and nurtured. At Sydnee's, you'll find groomers that have fun and trusting relationships with your pets. Offering that extra cuddle for reassurance or providing a little quiet space to relax can make all the difference!

All-Natural Products

We have developed our own line of all-natural and locally made grooming products to meet the needs of our pets' gentle & sensitive skin. Take a look at our pet facials!

Professional-Trained Groomers

We not only love to groom, but are passionate about learning and utilizing the best practices in the industry. Founders Kim & Nat, alongside talented professionals, have worked hard to develop our leading stylist-training program that is tailored to address all diverse pet needs.

Services to Bark For

Teeth brushing? Flea Baths? Natural facials & hot oil pampering? We've got 'em all! We strive to provide services that go above and beyond the basic bath. Check out our paw-fectly unique offerings, HERE.

We're on the Go

We know your time is valuable! That's why our mobile grooming truck has all the amenities of a complete grooming salon, right at your doorstep. Call to schedule a visit!
Having franchised Sydnee's Pet Grooming for over 2 years, I am extremely happy to take part in their mission to deliver love, care and support to our animal community. It's not just a brand I love; it's a wonderful experience that has opened up opportunities and created a viable future for me!

Cecilia A.

Franchisee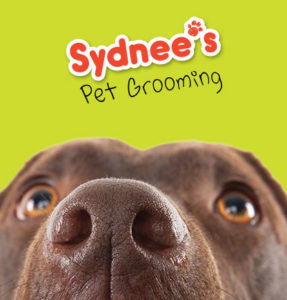 Behind every small business there is a big story and Sydnee's Pet Grooming's started a little over 6 years ago.

Kim Srisark opened her first grooming salon at just 23 years old, turning her love for animals into a passion that she could share with her community. Within 15 years she transformed a small boutique pet salon into a thriving premier grooming business, with three corporate stores and four franchises throughout Southern California.

As Sydnee's Pet Grooming expands, Kim's lifelong passion to "create a healthy life with AMAZING style" continues to flourish with each new location.

Since the beginning, Sydnee's has repeatedly been named to the San Diego "A" List, a "San Diego Best," a "Top 500 Franchise," among other accolades.

The impetus for starting and growing Sydnee's, Kim says, "I wanted to make a difference in the pet industry by creating a salon that was safe and clean, stylish and on trend, as well as created a great work environment for my team."

Alongside her husband, Nat, Kim continues to live each day in fulfillment of her mission to help animals through grooming, wellness and philanthropy. Fostering her excitement for the industry, she continues to groom at the flagship salon in San Marcos, California.

Kim and her team know the importance of using only the highest quality products on pets. That is why she developed Furry Facial Face Wash and Massage Line that are all natural and made with absolute care, used at every location. Extending goodwill across the U.S., Kim also established the P.A.C. Foundation to raise awareness and support for animal advocates and non-profits.

Kim and Nat's passion and commitment extends to their company family, clientele and every animal they encounter. Their service goes beyond grooming, and they look forward to bringing an unparalleled experience to each furry friend that visits them each day.


Our
Support Team
Kimberly Srisark
Co-Founder
Nuthaporn Srisark
Co-Founder
Kristina Ahredt
Director of Operations
Sara Johnson
Public Relation Coordinator
Jairo Rodriguez
Marketing/Design
Daniel Viera
Web Development