Creating a healthy life with AMAZING style!
At Sydnee's we know that when pets are well groomed, they are happier and healthier. We use all natural products that are safe for pets, as well as the environment. As a family owned company, Sydnee's strives to treat our clients, their pets and our community like family.
We love what we do
As animal lovers, we understand the importance of keeping your pet healthy and happy throughout their lives. Good grooming is a key part in maintaining health. We've worked hard and continue to learn the best practices in the grooming industry. At Sydnee's, you'll find groomers that have fun and trusting relationships with your pets.

Your pet needs to feel safe and nurtured. We meet every unique need, from an extra cuddle for reassurance to a little quiet space to relax. By creating safe & healthy grooming products to learning the best techniques, we want the very best for your pets.
As a growing company, we believe we never stop learning and getting better at what we do. Our focus is to bring the very best high quality grooming to your pet. Why? Because it's true: we love what we do.
Wonderful company to be a part of! I realized that Sydnees offered the best and greatest support, a viable future for me! Their structure and mission have been such a wonderful experience to be a part of! So  happy to be a part of the Sydnees brand!

Krystal V,

Franchisee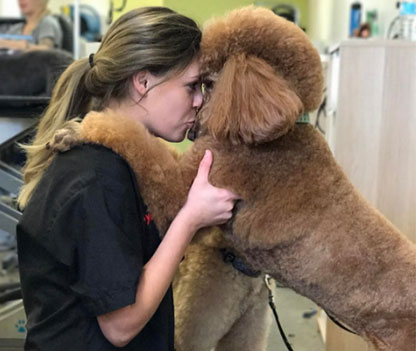 Sydnee's is more than a pet grooming company. We're a family. A family with one major thing in common: we're passionate about caring for animals. Our company philosophy is to "create a healthy life with amazing style". The result of that mantra is a culture of constant growth from top to bottom. Growth that brings the highest quality grooming care to our clients.

Our commitment to bringing the best to our pets has led us to develop our own line of all-natural, locally made, grooming products. In addition, founders Kim & Nat, alongside the best in the grooming industry, have worked hard to develop our leading stylist training program. We're also redesigning our salons to meet our growing standards while maintaining the same clean, safe, and secure environment your pets really need.

Sydnee's is where you'll find enthusiastic groomers that know their clients and their pets like family. You'll find groomers that love what they do and continue to develop their talents and skills. You'll find a place where your pet can feel at home.
Remember wondering what you wanted to do when you grew up? For Kimberly Srisark, that question was answered at the start. Kim's first job was grooming. Being one to push herself further, Kim, then 23, opened her first grooming salon, Kim and Mindy's Paradise Pet Spa in Fallbrook, CA. Years later, she met the love of her life, Nat. Together in 2011, they worked diligently to transform Sydnee's Pet Grooming in San Marcos, CA into a well-respected and premier grooming salon.

After fostering a salon full of groomers wanting to grow even further, Kim & Nat were inspired to begin expanding. We're so happy to see our Sydnee's Family flourish and to see that with each new location, Kim's message of "creating a healthy life with AMAZING style" is brought to every paw we encounter. From our grooming to our business, Sydnee's Pet Grooming is recognized as one of the best in the industry.

You can find Kim still grooming at our flagship salon. You can also find Kim using her lifelong passion to run the P.A.C Foundation, an organization working to raise awareness and support for a wide variety of animal advocates and non-profits.

Kim & Nat's love, passion, and commitment to their family extends to their company family, their clientele, and every animal they encounter. We hope you (and your pet) will come visit us soon.

You can learn more about the Sydnee's P.A.C. Foundation here.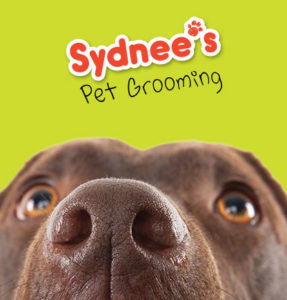 Our
Support Team
Kimberly Srisark
Co-Founder
Nuthaporn Srisark
Co-Founder
Kristina Ahredt
Director of Operations
Travis Hardesty
Director of Training
Jairo Rodriguez
Marketing/Design
Daniel Viera
Web Development